'I Will Not Let It Fall To Ruins'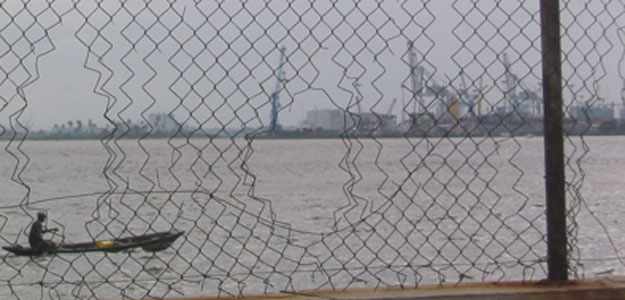 Lagos, Nigeria, has long been regarded as one of the world's most chaotic cities, and also one of its most environmentally unfriendly. Now, a new state governor is investing record sums of the budget into a massive public works campaign intended to dramatically improve the city and its environmental impact. But will his plan be able to survive the city's endemic- and legendary- problems? (Photo Courtesy of Tobiaseigen/Flickr)
By Bob MajiriOghene
Last year at the Civic Centre in Lagos, Babatunde Fashola, governor of Lagos State, unveiled one more component of his plans to reshape Lagos as a megacity. It was the N228 billion Lagos Energy City project, located on a 170-hectare piece of land in Badagry, a Lagos suburb. Though it's a major undertaking, the Energy City plan is only a small portion of Fashola's master plan for Lagos. Involved in government for many years- Fashola was chief of staff to his predecessor, Bola Tinubu- Fashola ran his campaign for governor under the credo 'Ekoo ni baje', a Yoruba phrase that means, 'Lagos under my watch will not fall to ruins'. "The four years we are going to spend in office amounts to 35,000 hours and 40 minutes. I am therefore in a hurry because the public expectation is high," Fashola has said.
The governor is indeed in a hurry. For Lagos, a city which has long been regarded as one of the most haphazard and unplanned cities in the world, better days seem to be ahead.
Set in 1967, Lagos' annual budget, which is equal to USD650 million is, according to the World Bank, too small to improve infrastructure and deliver the services needed for her over 10 million residents. A Lagos Metropolitan Development and Governance Project document states that, "by contrast Delhi with a population of 13.3 million people has a budget of USD2.6 billion; [and] Jakarta, Indonesia, with a population of 11 million, has a budget of USD1.0 billion."
Much of Lagos' burgeoning population can be due to the scores of Nigerians who pour into the city daily in search of opportunity. Ojo Maduekwe, Nigeria's Foreign Affairs Minister, said that between 600 to 1000 Nigerians from other parts of the country enter Lagos daily and do not return, making Lagos city the highest concentration of human beings on the smallest landmass on the whole of the African continent.
It also holds the position as the 6th largest megacity in the world. Its population is larger than that of 37 individual African countries, with a growth rate of 4.8 per cent every year. A 2003 report by the World Urbanization Prospects said that 70 per cent of the Lagos populations live in slums and in extreme poverty. This urban poverty persists despite the efforts of Tinubu, Governor Fashola's predecessor, who attempted throughout his two terms to create additional local governments or 'development areas' throughout the city. This led to a face-off with the administration of former Nigerian president Olusegun Obasanjo, eventually resulting in a withholding of funds accruable to Lagos State because Tinubu refused to revert to the status quo.
With Fashola's leadership, all of that has begun to change. In the last 20 months, Fashola has spent billions of naira, particularly in the areas of the environment, transport, public health, education, housing, energy and security. Kola Ogunsanwo, a Lagosian, said that he is happy with the ease with which he now drives through the two-kilometer-stretch of Ozumba Mbadiwe waterfront which used to be paralyzed by traffic snarls in excess of 80,000 vehicles daily.
Lagosians tell the same story of the expansion and modernization of other major projects like the Lekki-Epe Expressway, a long-awaited thoroughfare through the city. Sources close to the Lagos State government said that it has also achieved 80 per cent completion of the Ajah-Badore road, an integral part of the proposed 4th Mainland Bridge, so-named because it will be the fourth major bridge that connects Lagos to mainland Nigeria. These public works projects are so immense that they often cost unprecedented sums of the budget. The rehabilitation of roads like the Ago-Palace Way Extension in the Amuwo-Odofin area of Lagos State gulped a cool billion naira; the improvement of the Yaba-Iddo mainland road system took more than N9 billion.
Fashola has been so bold in his public works projects that he has expanded his efforts at rehabilitating roads in Lagos well beyond the metropolitan area. Alimosho, the largest local government area outside of Lagos city, has had 13 major roads rehabilitated, while other neighboring areas such Ikorodu, Etin-Osa, and Surulere have had five, 21, and 15 roads repaired, respectively. Contracts for further public works projects have ranged from N77 million to N855 million. Yet construction and rehabilitation of roads in Lagos is only one aspect of Fashola's 10-point agenda. The state administration has also dredged channels in the Ikorodu Waterfront and the Lagos Lagoon to provide water transport services from the major state marinas at Ojo, Ijede-Badore, and Falomo.
Another sector that the Fashola government has invested heavily in is 'Operation Green Lagos', an environmental beautification program. Money has been poured into creating new eco-friendly pavement and maintaining botanical gardens like the Abiola Garden, the new Tinubu Gardens and the Falomo Roundabout. Some of the electricity generated to light up the gardens is from solar energy, helping to supplement Nigeria's use of hydropower to satisfy its electrical needs. As a result of these green power sources, parts of Lagos that would fall dark when the sun set- places like the Alausa-Ikeja Secretariat, the Old Lagos Toll Gate on the Ibadan Expressway, Simpson Street and the Lagos Marina Waterfront- now glitter much the same way that Las Vegas, Nevada does at night.
While many Lagosians seem to be happy about the changes in their city, others are not so pleased. Many are upset about the spate of demolitions that have trailed the reshaping of Lagos. They cite the recent demolitions of illegal structures at Oshodi and the inability of displaced traders to afford the cost of shops at the ultra-modern Ikeja Cantonment Market as signs of unfair progress. Others who pleaded anonymity allege that all of the effort of the state government is geared towards a depopulation of the city, citing the refusal of the government to provide alternatives for homes demolished by their public works plans. They insist that the shine and razzmatazz of Ikeja, Ikoyi, Ilupeju and the areas popularly known as the new 'Lagos Las Vegas' does not extend to such places like Okokomaiko and Ajegunle, which are still desperately poor and without resources.
Faith Anikwenwa, a marketing executive in Lagos who lives in Okokomaiko, said that her own part of Lagos is like an abandoned town. According to her, the traffic snarl on the Badagry expressway still persists, forcing her to 'relocate', squatting with a friend in Bariga so as not to lose her new job in re-developed Anthony Village. She recommended that Fashola quickly develop the proposed light rail system which she said would greatly alleviate the plight of residents in Okokomaiko and other parts of Lagos too distant from more prosperous neighborhoods.
Ejike Felix, a businessman who recently took his family to Lagos' Bar Beach, commended the state government for finding a lasting solution to the ocean surge which usually overflowed its shoreline in the rainy season. But he has some complaints to make. According to Felix, government would do well to provide some more litter bins, enough toilets and a well-supervised sitting arrangement at the newly-built botanical gardens.
Nevertheless, there are are louder voices calling into question some of Fashola's decisions as he sets out to re-make Lagos. Reliable sources said that as soon as it became clear that work on the major Isheri-Olofin road was a foregone conclusion, some residents who allegedly erected structures on areas earmarked for demolition offered the governor a bribe of N100million to influence their case against the demolition. The source said that before the governor rejected the bribe, he told them that he empathized with their plight but that the matter was out of his hands because the road construction was being financed and run by the World Bank through their Lagos Metropolitan Development and Governance Project. It still remains unclear exactly whose responsibility it is to help those whose homes are earmarked for demolition.
Others hope that the new environmentally conscious development of Lagos will also tackle one of the city's most persistent public health issues, alleged indiscriminately erected telecommunications masts and towers. On January 8, Governor Fashola was at the Nigerian Institute for International Affairs, where the Nigerian Conservation Foundation held a memorial lecture in honour of its grand patron, the late SL Edu. The governor used the occasion to reiterate that there was a need for the state government to regulate the erection of masts and towers in Lagos. According to him, "these masts and towers are an environmental problem. They emit radioactive substances that pose serious health risks to Lagosians. Why should there be 100 masts on a street when only two could do?"
The long-standing fight over who should regulate the erection of masts and towers did not begin on January 8, nor will it end there. Matters came to a head in 2007 when the Lagos State House of Assembly enacted the Lagos State Infrastructure Maintenance and Regulatory Agency Law, which permitted state officials to oversee the construction of these towers. Telecommunications companies dragged the state government to the Lagos Appeal Courts and on both occasions, got judgment against the state, with the court maintaining that regulation of masts and towers was the exclusive preserve of the federal government.
Lagos State seems undaunted however, as it has taken its case to the Supreme Court. The International Finance Corporation, in its environmental, health and safety guidelines, recommended "minimizing the construction of additional towers through co-location of proposed antennae in existing towers or existing structures such as buildings or power antennae transmission towers." It also said that anyone interested in constructing a mast or tower must consult with the local community during the citing process of antenna and towers.
Bob MajiriOghene is a senior writer at TELL Magazine in Nigeria. He blogs at www.boblinkus.blogspot.com.